SuperFrio was present at the National Restaurant Association Show 2023, the main global meeting for the foodservice industry.
The fair took place in May, in the American city of Chicago, and brought together an impressive crowd of professionals from 107 countries — including the United States, Australia, Mexico, Japan, Taiwan, the Philippines and, of course, Brazil.
Event
The 2023 edition received almost 55,000 professionals and saw a growth of 8% in total attendees compared to 2022. To get an idea of the growing interest in the event, the international presence represented 15% of total registrations — an increase from 11% in the previous year. last year.
"The delegation from Brazil totaled approximately 500 professionals, linked to the food service chain, restaurants and logistics operators, the NRA Show 2023 provided incomparable opportunities to explore the latest trends and establish commercial relationships.
SuperFrio, as the Brazilian market leader in temperature-controlled logistics, was able to gain valuable insights into the out-of-home food market in Brazil. This supports our vision of shortening distance and protecting our customer's brand in the Brazilian cold chain." comments Vinicius Falcão – SuperFrio's Commercial Director who participated in the event.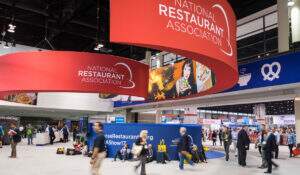 Logistics Overview
In the panorama of Brazilian logistics, the main challenges discussed were the continental and uneven reality of the country, the challenges in the production and distribution of food to supply the Brazilian market, the expectations and demands of consumers, and the difficulties encountered in the cold chain.
This is because Brazil, being a continental country, presents enormous diversity in terms of regions, cultures and food preferences. This reality brings unique challenges to the away-from-home food sector, as it is necessary to understand and meet the needs of different audiences throughout the national territory.
Food production and distribution are also areas that face significant challenges in Brazil. Complex logistics and limited infrastructure can make it difficult to efficiently deliver quality fresh, refrigerated and frozen food across the country. This issue is especially relevant when considering the growing demand and consumer expectations for healthy and sustainable products.
We cannot forget the difficulties of cold chain logistics in a country the size of Brazil, especially for small and medium-sized companies that intend to serve all or part of the national territory.
Looking to the future
SuperFrio has been preparing to be the partner of the Foodservice chain in Brazil, in recent years we have expanded our capillarity and capacity to serve the national territory, with dedicated and shared logistics solutions for both storage and transport.
Want to know more? Contact us!
count on SuperCold to be your logistic partner.